By Doris He |
14
July 2022 |
0
Comments
What is 5G Technology?
Part I. What is 5G technology?

The theoretical peak speed of 5G technology is 20 Gbps, while the peak speed of 4G is only 1 Gbps. 5G also promises lower latency, which can improve business applications and other digital experiences (such as online games, video conferencing, and self-driving cars). performance.

Although early cellular technologies (such as 4G LTE) focused on ensuring connectivity, 5G brought connectivity to a new level by providing customers with a connected experience from the cloud. 5G networks are virtualized and software driven, and they utilize cloud technology.

5G networks will also simplify mobility and provide seamless open roaming between cellular and Wi-Fi access. Mobile users can stay connected while moving between outdoor wireless connections and wireless networks in buildings without user intervention or user re-authentication.

The new Wi-Fi 6 wireless standard (also known as 802.11ax) shares common features with 5G, including improved performance. Wi-Fi 6 radios can be placed where users need them to provide better geographic coverage and lower costs. The foundation of these Wi-Fi 6 radios is a software-based network with advanced automation capabilities.

5G technology should improve the connectivity of underserved rural areas and cities, where the demand for 4G technology may exceed today's capacity. The new 5G network will also have a dense distributed access architecture and bring data processing closer to the edge and users to achieve faster data processing.


Part II. How does 5G technology work?

5G technology will introduce progress in the entire network architecture. 5G New Radio is a global standard for a more powerful 5G wireless air interface that will cover unused spectrum in 4G. The new antenna will use a technology called massive MIMO (multiple input, multiple output) to enable multiple transmitters and receivers to transmit more data at the same time. But 5G technology is not limited to the new radio spectrum. It aims to support converged heterogeneous networks, combining licensed and unlicensed wireless technologies. This will increase the bandwidth available to users.

The 5G architecture will be a software-defined platform in which network functions are managed through software rather than hardware. Advances in virtualization, cloud-based technology, and IT and business process automation have made 5G architecture agile and flexible, and can provide users with access anytime, anywhere. 5G networks can create software-defined subnet structures (called network slicing). These slices enable network administrators to specify network functions based on users and devices.

5G also enhances the digital experience by supporting the automation of machine learning (ML). The need for response time within a fraction of a second (such as the need for autonomous vehicles) requires 5G networks to be automated through ML, and ultimately deep learning and artificial intelligence (AI). Automatic configuration and active management of traffic and services will reduce infrastructure costs and enhance the connection experience.


Part III. Is 5G network coverage wide?

CCTV News quoted a data published by the Ministry of Industry and Information Technology. The data shows that China has built 1.15 million 5G base stations, accounting for more than 70% of the world's share, and has become the world's largest and most technologically advanced 5G independent network.

At present, all prefecture-level cities in China, more than 97% of counties and 40% of towns and towns, have achieved 5G network coverage, and the scale of 5G terminal users has reached 450 million, accounting for more than 80% of the global share.


Part IV. What is the actual impact of 5G technology?

5G technology will not only usher in a new era of network performance and speed improvement, but will also bring users a brand-new interconnected experience.

In the healthcare sector, 5G technology and Wi-Fi 6 connectivity will enable patients to be monitored through connected devices that continuously provide data on key health indicators such as heart rate and blood pressure. In the automotive industry, the combination of 5G and ML-driven algorithms will provide information about traffic, accidents, etc.; vehicles will be able to share information with other vehicles and entities on the road, such as traffic lights. These are just two industry applications of 5G technology, which can provide users with a better and safer experience.

The impact of 5G on the development of the Internet of Things

5G accelerates the development of the Internet of Things and provides additional impetus for the fourth industrial revolution. Control units and sensors installed in facilities and machines, as well as in the logistics chain, benefit from this fast and reliable real-time data transmission. However, these machines must have 5G capabilities in order to prepare the existing infrastructure in the production workshop for modern communication standards.

Smilembb is committed to providing advanced wireless 4G CPE, 5G CPE for Internet of Everything. Comment below to let us know if you have any questions!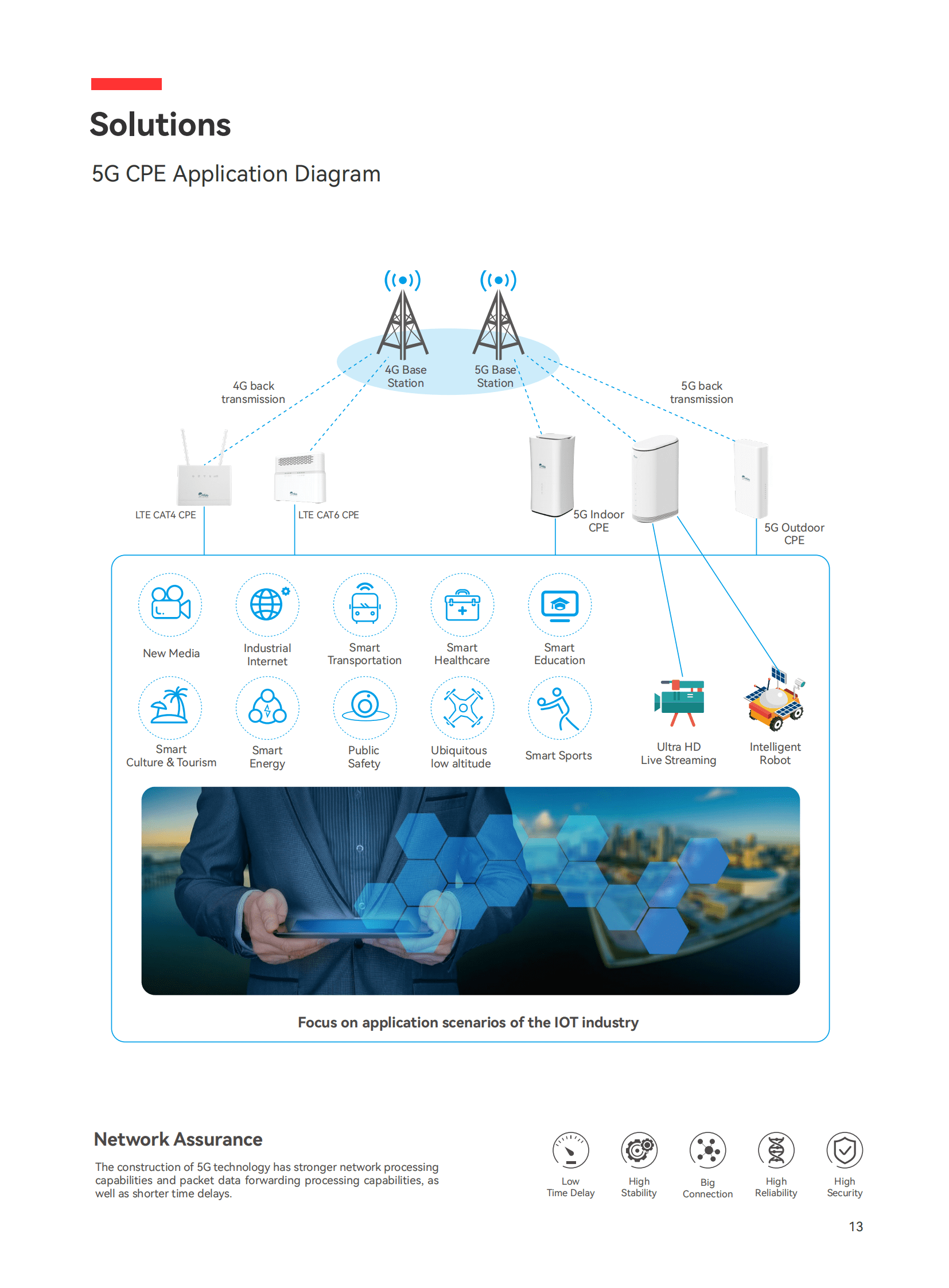 You Maybe interested:
What is the Wi-Fi6(802.11ax)? How fast it is?
Leave a Reply
Your email address will not be published.Required fields are marked. *