By SmileMbb |
29
July 2022 |
0
Comments
How to configure the L2GRE tunnel protocol in 5G Industrial CPE?
Part I. What is Industrial-grade 5G CPE?
XYB5551 is an industrial-grade 5G CPE device for industrial control applications. The device integrates the functions of a 5G modem, router, and access point, providing users with a safe, reliable, convenient, and flexible wireless broadband connection. While providing network connection, it can achieve the application functions of IoT data private network establishment, remote data access, video monitoring, etc. in unattended 7x24 hours.
Today we are going to show you how to configure the L2GRE Tunneling Protocol based on equipment XYB5551 industrial 5G router in the following:
Before that, we need to make a brief introduction that why we need the L2GRE Tunnel.
1. The Application of L2GRE Tunnel
The L2GRE VPN is a GRE tunnel based on a layer-2 link. The L2GRE server is used to open a layer-2 tunnel among all devices on the current network. All devices are on the same network segment so that devices can communicate based on MAC addresses and route forwarding is skipped.
In some special network environments, like, data forwarding between devices cannot be implemented through routes, or in complex network environment reconstruction, if the workload of routing configuration is heavy, it can be used this solution.
2. Data Transmission Diagram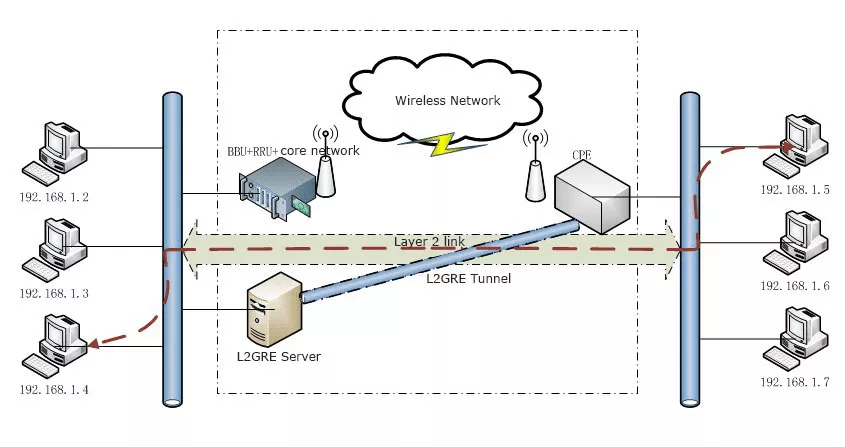 3. Schematic Diagram of Network Environment Construction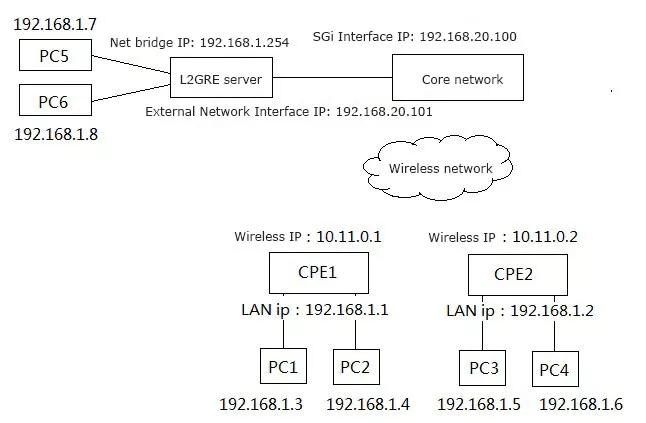 4. Basic Description
An L2GRE server is configured at the back of the core network to establish a Layer 2 tunnel protocol. All devices on the current network are on the same network segment so that all PCs on the same network segment can communicate with each other without a gateway.
Note that the LAN interface address of the CPE and the bridge address of the server can be in different network segments from the current environment. If a tunnel is established between the CPE and the server through the wireless address and external network port address, the mounted devices can communicate with each other, and cannot communicate with other devices.
5. The configuration Steps
Choose Configuration > VPN>L2GRE as shown as follows:
CPE1:

CPE2:
Now you know how to configure the L2GRE Tunneling Protocol on 5G industrial CPE XYB5551.


Leave a Reply
Your email address will not be published.Required fields are marked. *